Robotic Urologic Surgery: All You Need to Know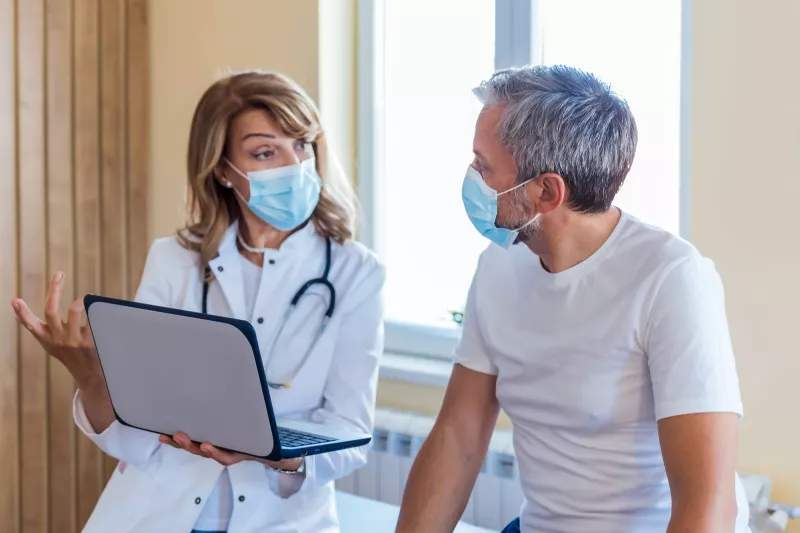 Choose the health content that's right for you, and get it delivered right in your inbox.
When it comes to beating urologic cancers like prostate cancer, early diagnosis and accurate treatment are key. At the AdventHealth Global Robotics Institute, we have one of the most experienced, world-class medical teams for robotic surgery in the country.
We utilize the latest medical technology to perform minimally invasive urologic robotic surgery that's safer and leads to quicker recovery times for patients. We're here to help you learn more about robotic urologic surgery and understand how we can provide effective treatment and whole-person healing.
What is Robotic Urologic Surgery?
Robotic urologic surgery is the minimally invasive surgical treatment of the prostate gland, bladder or kidney using the da Vinci Robotic Surgical System™.
What is the da Vinci Robotic Surgical System™?
The da Vinci™ robot has three major components: the surgeon console, the vision tower and the patient side cart. A camera allows the surgeon to view the area in which they are operating. The nimble robotic arms and instruments are what the surgeon uses to perform the procedure. The robot serves as an extension of the surgeon's hands and eliminates the need for large incisions that are necessary in traditional open surgery.
How is Urologic Robotic Surgery Performed?
The surgeon makes several small incisions about the size of a dime in your abdomen. A tiny robotic laparoscope and small robotic arms are inserted. The surgeon manipulates the camera and robotic arms to remove the prostate gland, bladder or kidney.
At AdventHealth, we put your health, safety and peace of mind first. Robotic technology guides your surgeon's movements and helps to optimize precision and accuracy.
Benefits of Robotic Surgery
Compared to traditional open surgery:
Incisions are smaller with robotic surgery, providing a quicker return to normal daily activities
Increased magnification of the surgery site to 10-times the size, combined with easily maneuverable robotic arms and instruments, which provides superior control and improved functional outcomes
Less risk of blood loss, practically eliminating the need for blood transfusions
Less time under anesthesia since the robotic prostatectomy only takes 60 to 90 minutes
Minimal pain
Shorter hospital stay; most patients leave within 24 hours
Quicker return to work
The Best Team for Your Urologic Surgery Needs
The mission of the Global Robotics Institute is to ensure that our hand-selected team is comprised of the world's best and brightest medical staff. We have built a team of over 50 professionals led by Medical Director Vipul Patel, MD, FACS. Dr. Patel is an internationally recognized expert who trains physicians worldwide in performing robotic-assisted prostatectomies. He has personally performed the most robotic-assisted prostatectomies in the world, with over 16,000 procedures.
Dr. Patel and his team are committed to providing personalized patient care and achieving quality outcomes with a multi-modality and multidisciplinary approach. They collaborate with experts in radiation oncology, medical oncology and internal medicine to provide the optimal comprehensive approach to urologic cancer to our patients.
To learn more about our world-class team and how we can care for you in body, mind and spirit, visit us here.