A Guide to Robotic-Assisted Prostatectomy and How It Benefits Patients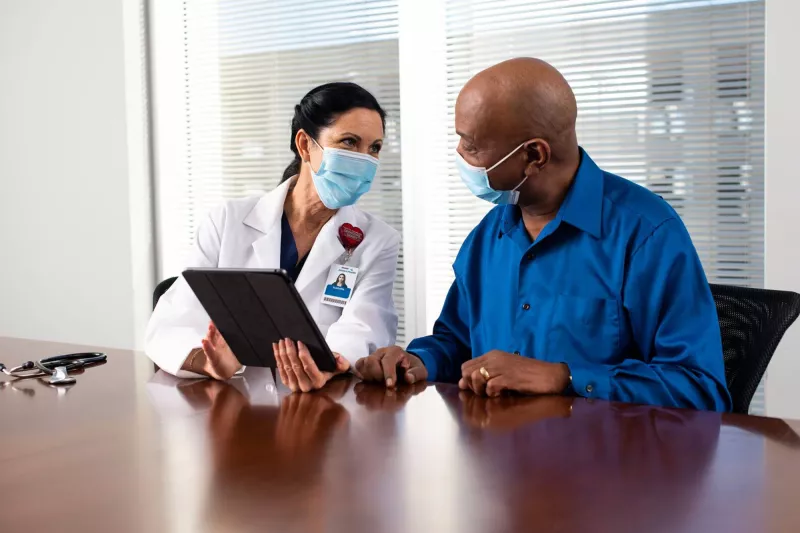 Choose the health content that's right for you, and get it delivered right in your inbox.
Years ago, a prostatectomy required a traditional open surgery. Surgeons would make one large incision in prostate cancer patients' abdomens to remove the entire prostate gland. Not only did that method result in visible and internal scarring, but more pain and bleeding and longer recovery times.
Now, thanks to state-of-the-art technology, robotic prostate surgery is helping thousands of patients across the globe have safer surgeries with condensed recovery times. Then they can get back on their feet in a fraction of the time.
At the AdventHealth Global Robotics Institute, our expert medical team utilizes robotic surgery for optimal accuracy — and so your body can heal better and faster.
Read more about robotic prostatectomies, how successful they are and their benefits to patients.
What is a Robotic Prostatectomy?
Robotic prostatectomy is a type of laparoscopic minimally invasive surgery that uses robotic surgical instrumentation to remove the prostate. The robotic laparoscopic method allows surgeons to operate through small rather than large incisions. This results in less pain, shorter recovery times, fewer complications and reduced hospital stays.
Surgical robotic platforms — like the da Vinci Robotic Surgical System™ used at AdventHealth — combine minimally invasive techniques with highly advanced guidance technology. Robotic surgery also provides 3D vision, which helps with nerve sparing.
The da Vinci 3D vision system magnifies the surgical field up to 10 times and enhances the ability of the surgeon to control small blood vessels for less blood loss. Minimally invasive procedures can be performed with more precision thanks to this robotic technology. Robotic arms remain steady, and robotic wrists make it easier for surgeons to manipulate tissue and work from positions that would be harder to reach with traditional methods.
How Does Robotic Prostatectomy Benefit Patients?
Robotic surgery for prostate cancer offers many benefits to patients. Safety, precision and faster, better healing are key advantages:
Benefits During Surgery:
Can perform every movement of a surgeon: Robotic surgery for prostate cancer enables flexibility and precision. The arms of the robot and its tools can bend, angle and maneuver just like the surgeon's hands.
Magnification enables the surgeon to perform precise movements: The surgeon can see parts of the body with greater magnification. Essential structures, like the nerves, blood vessels and muscles, can be preserved. It also aids in minimizing blood loss.
Some movements are performed even better by the robot: The robot's tiny instruments are able to maneuver into small, narrow parts of the body that are difficult for a surgeon's hands to reach. The robot can perform small movements to help save nerve endings and structures important to urinary and erectile function.
The robot offers a steady hand: This removes any possibility of human hand tremors, ensuring the smoothest, steadiest surgery possible.
Benefits After Surgery:
Less blood loss and transfusion: Because of the ability for more precise movements by your surgeon and the robotic arm, your surgery is safer.
Reduced pain: Most patients have their catheter removed within 4 to 6 days and do not require pain medication after discharge.
Reduced risk of incontinence and impotence: Nearly all patients regain full bladder control within three months, and 30% within one week.
Shorter hospitalization: Most patients go home the next day.
Quicker return to normal activity: Most of our patients are back to normal daily activities in 1 to 2 weeks, rather than the 4 to 6 weeks expected with traditional methods.
Walking and Kegel exercises help speed up recovery even more.
How Successful are Robotic Prostatectomies?
Robotic prostate surgery is highly effective in completely eliminating prostate cancer. Its success in each individual is also based on other factors, such as:
Adherence to postoperative penile rehabilitation
Aggressiveness of the cancer
Experience of the surgeon performing the surgery
For sexual function recovery, the presence or absence of a sexual partner
For sexual function recovery, the type of nerve sparing performed
Patient's pre-operative function and overall health
As with all surgeries, there is some risk of side effects. Infections can occur, cancer can reoccur and incontinence or erectile dysfunction can result. Rare complications include the need for blood transfusions and issues with bowel function or injury. We strive to avoid these complications in each and every patient we treat. We also screen extensively to avoid cardiac or pulmonary problems. Our goal is that every patient who walks through our doors goes home healed with the best possible outcomes.
Experience You Can Trust
The AdventHealth Global Robotics Institute is led by Medical Director Vipul Patel, MD, FACS. Dr. Patel is an internationally recognized expert who trains physicians worldwide in performing robotic-assisted prostatectomies. He has personally performed the most robotic-assisted prostatectomies in the world, with over 16,000 procedures.

To learn more about our world-class team at GRI and how we can care for you in body, mind and spirit, visit us here.